"The beekeeper is the one who follows spring, all season long until summer" - Armand Lanoux

Today we are meeting Roselle and Kien Vermel. They are beekeepers but also winegrowers. They have two agricultural businesses, l'Abeille Enchantée and Coteau Vermel.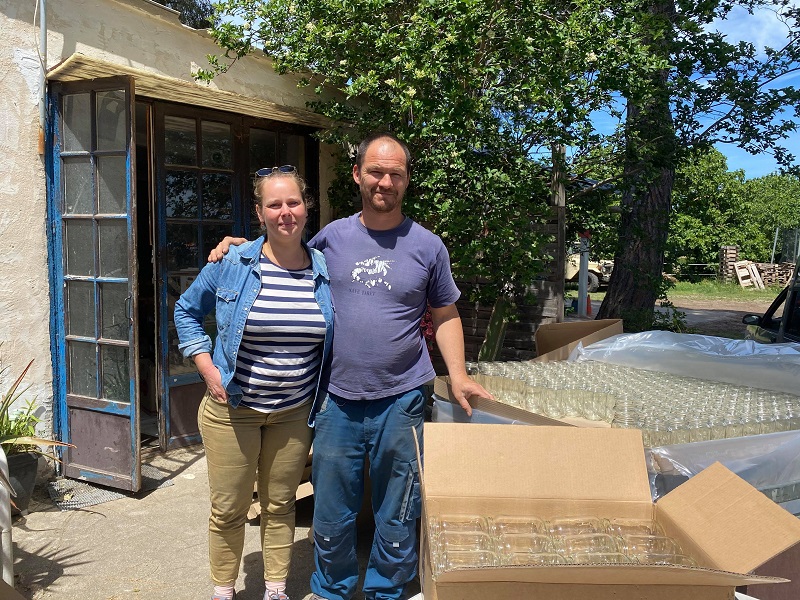 They had a completely different life before starting this adventure. Roselle was a sales assistant and after her maternity leave, she decided to change her life. She always wanted to be her own boss and do something in agriculture, but she didn't know what. It was when she watched a report on a passionate beekeeper that she knew what she wanted to do. She then approached a beekeeper to learn from him and had the chance to work for 4 months at USAR (Union Syndicale Apicole du Roussillon) as a secretary. She thus discovered the profession of beekeeping, met many beekeepers and confirmed to herself that she wanted to make it her profession, a new world opened up to her. After 4 months, she took a training course to set up as a business owner. This enabled her to combine the theoretical and practical aspects; she then had two ambitions, that of becoming a beekeeper but also that of becoming a winegrower.

0 km Honey

In 2010, she spotted an 8 hectare vineyard plot and it was in 2011 that she and her husband decided to buy it, along with the purchase of the first beehives. It took time to set up their project and find the funding, the couple really started in 2012. After starting with a few beehives, they now have around 250 throughout the Pyrenees-Orientales region. Roselle taught us that "the beekeeper is the one who follows spring, all season until summer" (Armand Lanoux). With the objective of following the flowers, she moves her hives according to the advance of spring, she will then climb higher and higher in altitude to reach an altitude of more than 2,000 meters in the Fenouillèdes. They will produce around ten different honeys in Corbières and Albères, around Argelès, Banyuls and Sorède. She also produces a honey which she calls 0 km Honey, since the hives are in Saint-Cyprien, the honey is potted in Saint-Cyprien, then sold in Saint-Cyprien.

Quick info: Today, she no longer buys the bee swarms, she produces them herself. It is called queen bee breeding, the principle is to make the hive believe that it no longer has a queen, in this way, they transplant into queen cells (larger than worker bees ) a larva less than 3 days old, then the bees take care of them, feed them with royal jelly and they make them queens. Roselle considers that she carries out gentle beekeeping, she only takes the honey that is in the honey stores and not in the hives, leaving it for the bees. She sees it as a partnership with the bees and that is why the bees are free and can leave at any time.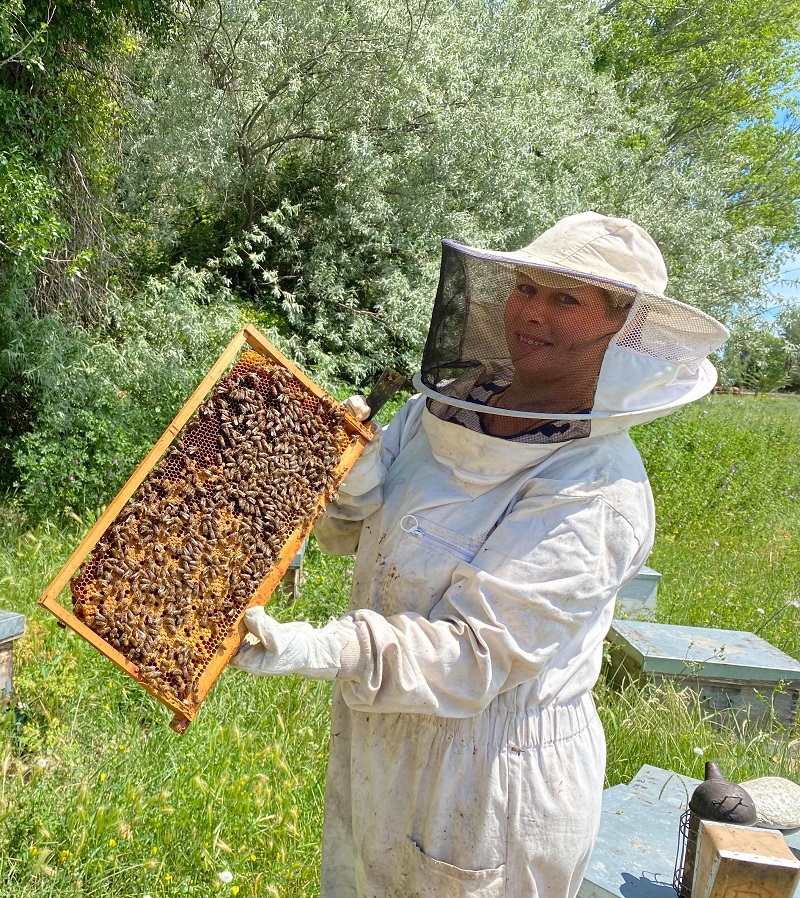 A natural wine
 
Regarding the vines, they are organically certified, they work without chemical pesticides, without herbicides and use certified organic products to treat vine diseases (copper and sulfur). However, they do not have a cellar and work as a service provider for another winemaker who is not certified ORGANIC (which is why there is no ORGANIC label on their bottle). Their wine is said to be "natural" since it is made in an artisanal way. The natural potential of the grape will be exploited, there is no addition of sulfite or yeasts. It is the yeasts naturally present in the grape juice that will work, as well as those contained in the air, thus producing a unique and non-standardised wine.
 
At the moment, the couple are not planning to provide tours of their businesses, given there is only two of them. However, their objective in the years to come is to create an association in order to share their passion.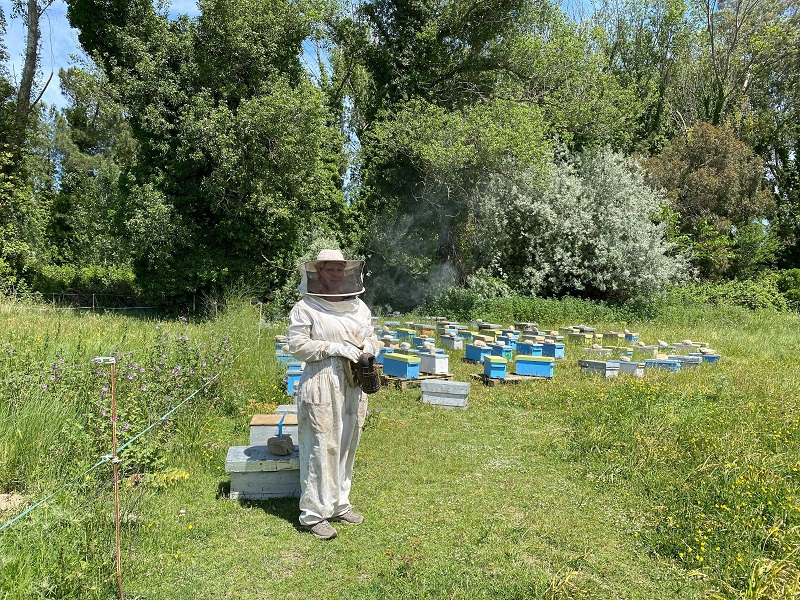 If Roselle had to provide us with a word about her operation, it would be "artisanal". Whether for wine or honey, everything is handmade in a traditional way. For wine, this involves harvesting, pruning and bottling. They produce a white wine with Malvoisie de Roussillon, an old Catalan grape variety that had more or less disappeared, it is a typical white wine, but unlike any other. As for the various honeys, they are not mixed together or reheated, they are raw honeys, corresponding to the land where they are produced.

It is not an easy job, it is even rather unpredictable. In 2019 and 2020, they experienced difficulties with their harvest. This season seems to have started well but do not hesitate to support them. Come and find them at the four seasonal markets of Saint-Cyprien. When the harvests are good, you can also find them at the Saint-Cyprien Tourist Office shop, and they are present all year round at the SlowFood market in Elne. For more information, you can reach them on 0033 (0)6 67 35 27 01 or on their Facebook « L'Abeille Enchantée ».
at Saint-Cyprien
Also discover...