Go for a gourmet walk

All year round, and particularly during the summer season, Saint-Cyprien showcases the stalls of local producers. The daily markets are full of tasty and visual treats.
During the day or after sunset, these epicurean rendezvous are the occasion for a pleasant stroll facing the sea under the rejuvenating freshness at the beginning or end of the day.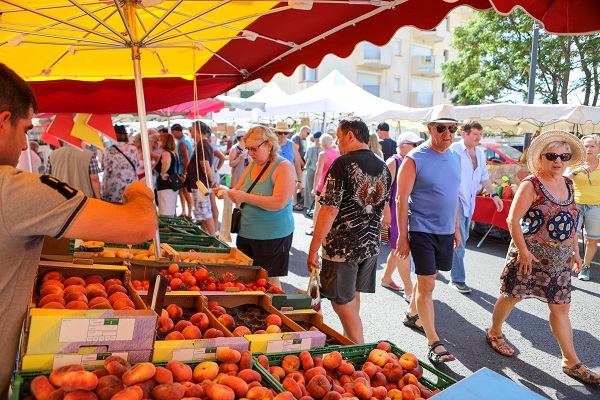 Fill up on vitamins!

On the port, visitors and residents alike enjoy the holidays by strolling through the aisles of the market to the sound of the waves and the salty sea air. Before noon, gourmets will take advantage of filling their basket to cook a fresh and local lunch.

Whether you are local, a holidaymaker or visitor passing through Saint-Cyprien, here you will have the opportunity to do your shopping at all hours of the day.

100% local products
Based on Mediterranean food, Catalan gastronomy uses all the resources of the land and the sea: fish, cheese, meat, fruit and vegetables… Plates of seafood and shellfish, spicy flavours and fragrant colours are "the ingredients" composing the recipes of Catalan cuisine.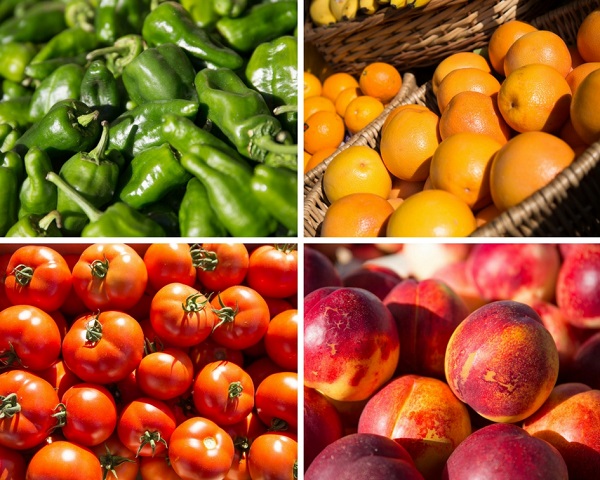 The markets of Saint-Cyprien will help you discover the typical products of the Mediterranean by giving pride of place to the local producers and artisans of the department. The beach markets (Tuesday and Friday) are among the largest markets in the department!

You will be filled with colours, aromas and flavours: seasonal fruits, tamarisk and garrigue honey, traditional pastries, olive oil, goat cheese, flavoured olives ...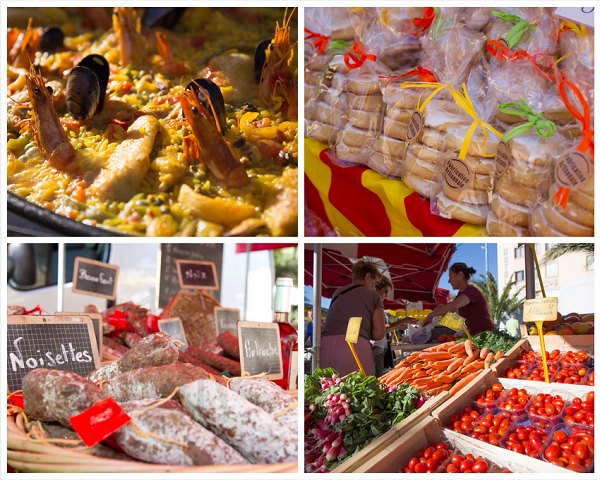 Support local producers

"Domaine des deux blay" is a vineyard which offers Muscat de Rivesaltes (white), Rivesaltes (amber), Côtes du Roussillon (red), local wine from the Pyrénées-Orientales (red), or table wine (red). The estate is located at 12 rue Alphonse Daudet in Saint-Cyprien but it provides home delivery all year round. It is currently open Tuesday, Thursday and Saturday from 09:00 to 12:00.  In summer the cellar is open every day (except Sunday) from 09:00 to 12:00 and from 17:30 to 19:00. You can contact them on 0033 (0)6 70 76 73 00 or on Facebook "Domaine des deux blay".

"Saveurs des saisons" is a producer that offers organic seasonal fruit and vegetables, as well as fruit jams and juices. They are located at 180, route du Pas d'Availl L'Aspinesere, 66750, Saint-Cyprien and is open every morning from 09:00 to 12:00 except Sunday and Monday. You can contact them on 0033 (0)6 60 56 04 00.

"L'Abeille Enchantée" offers honeys made from wild flowers such as rosemary and garrigue honey from Corbières, honey from the Boucheville forest in Fenouillèdes, rhododendron honey from the Cerdagne. White wine is also sold there, as well as gift baskets and gift bags. For more information, you can reach them on 0033 (0)6 67 35 27 01 or on their Facebook "L'Abeille Enchantée".

"Domaine du Coll de Rousse" is a vineyard located in Tressere, a small village in the foothills of the Canigou massif. Their know-how is passed on from generation to generation and the business is classified as Organic. The domaine offers many grape varieties, Syrah, Grenache black and white, Carignan, Mourvèdre, Vermentino, Muscat d'Alexandrie. They have the Côte du Roussillon appellation: Les Aspres, guaranteeing a spicy and generous wine. The shop is located in Saint-Cyprien, at 3 Boulevard Maillol. It is open Mondays, Wednesdays, Fridays and Saturdays from April to October from 09:00 to 12:00 then daily from May to September. You can reach the domaine on 0033 (0)4 68 21 22 85 or on the website http://www.domaine-coll-de-rousse.fr/.
"Les Sœurs Durand" is an artisan chocolatier, biscuit maker and confectioner, using quality, natural products without additives, preservatives or palm oil. Everything is made in Saint-Cyprien and is sold on the website https://lessoeursdurand.fr/. You can also find the products at Cypri'vin, Jardin Catalan or Aux Quatre Saisons. You can reach them on 0033 (0)6 18 88 72 97 or on their Facebook "Les Sœurs Durand".

And also in the surrounding area: "Le Paysan Catalan", producer of fruit and vegetables (Alénya), "Le Jardin Bio de Laurie", producer of seasonal organic fruit and vegetables, as well as fresh eggs and fruit juices (Alénya) , the craft brewery "Boaça", offering craft beers (Alénya), Madame Nathalie Pou, beekeeper (Théza), the "Château de L'ou", a vineyard which produces a range of wines reflecting the terroir and "organic" approach, they also sell olive oil (Montescot), "Jonquères d'Oriola 'vineyards": vines, orchards and olive trees (Corneilla del Vercol), "CroqAmandes", producer of almonds with or without the shell, sweet almonds , salty and chocolate (Latour Bas Elne).


Traditional markets

Village market
All year :
Thursday morning - Place de la Mairie (village)

Beach market
All year :
Friday morning - Rodin district (Plage de l'Art)

From May to September:
Tuesday and Friday - Rodin district (Plage de l'Art)

From June to early September:
Sunday morning - Boulevard Maillol (seafront)

Local produce markets

Gourmet market
From June to September :
Every Monday morning - Place de Marbre (port)

Fish sales

Every morning from 08:30 to 12:00 on the quays of the fishing port of Saint-Cyprien, to discover the arrival of fresh fish. Sales on site.